I find myself buried in holiday habits and traditional recipes--especially at Christmas. Sometimes, I like to take a break from my simple, Grandma-inspired, glazed ham...you know the one with the pineapple rings and pressed-in, whole cloves...for something a little more "flashy" and up-to-date. Several years ago, I wrote a recipe round up post featuring some of my favorite Christmas ham recipes from popular celebrity chefs. I thought it was time, again, to share what my family considers the 10 best Christmas ham recipes from celebrity chefs!
I think this Christmas ham recipe is my favorite because it is probably the most similar to one that my grandma made for the family when I was a child. Simple, common ingredients, old fashioned--and delicious.
I'm not sure if I love this holiday ham because it tastes so good--or because the spiced glaze makes the house smell so wonderful! Either way, it's one of my favorite celebrity chef recipes for the holidays!

My grandma didn't use many leeks or peppercorns in her hams--or honey, for that matter; but, I love the flavor combination in this ham.
I know. Serving a jerk seasoned ham for Christmas breaks tradition for most of us--but, sometimes, we just need a change. I love the citrus-rum glaze!
This recipe is in keeping with the traditional, old fashioned, glazed ham that we've all known and loved for the holidays--but, it combines ginger and peaches for something a little different.
Rachael Ray always keeps recipes and ingredients rather simple. This ham takes advantage of a glaze made with store-bought marmalade and fresh herbs.
I struggled with this recipe as we rarely drink soda in our house. I was a little hesitant, at first, to risk our family's ham by dousing it with a couple of liters of Coke! Of course, in the end, curiosity won out!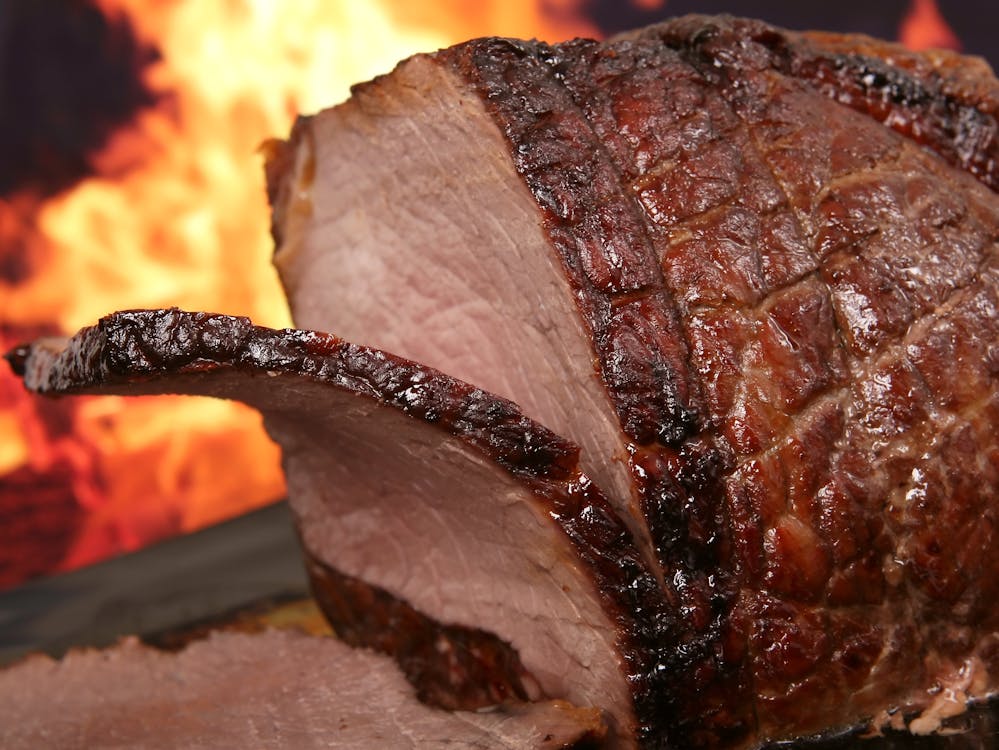 Mario Batali's Fresh Ham Italian Style

This ham is a little more labor intensive than some of the other recipes we have featured--but, the flavor is worth the effort!
This is another example of a simple glaze creating a flavorful ham. Mango chutney, garlic and citrus baked into a spiral sliced, Virginia ham.

Coating the ham with crushed gingersnaps caused me to raise an eyebrow--but, since I love ginger glazed hams--it was a recipe worth a try!
Note: This is an updated post from a Christmas recipe roundup that I did many years ago for Yahoo! Voices. We were not compensated for this post. All opinions and comments are our own. Note that we may receive slight compensation from affiliate linking within our posts.