Planning a Super Bowl Party in 2020? One of the first tasks to check off your Super Bowl Party planning checklist is invitations. Creative invitations really get your guests ready for the big game! With so many free, printable Super Bowl Party Invitations and Super Bowl Party Flyers available online--the task of creating fun, personal party invitations is quick and easy. We have found 10 free, printable Super Bowl Party invitations and flyers that we love--and we have updated this post for Super Bowl 2020!
Evite Super Bowl Invitations.
Evite has several free Super Bowl Party themed invitations
again this year--and a number of low cost premium invitations as well. I think the
Stadium Big Game Invitation
--it's simple and easy to customize. While it is a free card, Evite requires users to register with basic information (email, name, location) to use the service. Registration for the site is currently free. This is an e-card--so users may simply enter the email addresses of guests to send the invitations. (Of course if you
really
want to print and mail the invitations--you could email a copy to yourself, print copies and mail the rest of your invitations the old fashioned way!)
I still like the
Football Laces Invitation
from Evite too! It made my list last year--and stays!
Punchbowl.com Super Bowl Party Invitations
I have used Punchbowl.com for party invitations for years now. As with Evite; Punchbowl offers several
free Super Bowl Party Invitations
. My favorite is this
Time for the Big Game
party invitation. Simply sign up for a free Punchbowl.com account, customize your card and email it to your guests.
Paperless Post Super Bowl/ Football Party Invitations
Paperless Post
has some simple, free invitations as well as some more elaborate ones for your game day party.
Download & Print
Greeting Island Football Party Invitations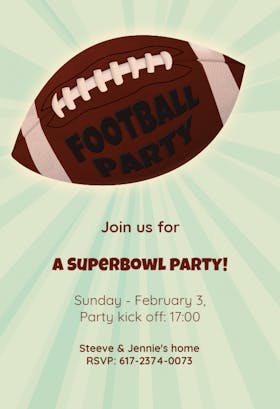 Have you already chosen your Super Bowl Party Invitations?
This year, I'm using the Football Ticket Invitations from Punchbowl.com.
I love planning our Super Bowl Party!